Why Should I Switch to memoQ?

Since memoQ's creation 15 years ago, our software has grown to become one of the world's leading translation environments. We continuously add and update features tailored to meet the needs of various segments of the translation industry. Today, memoQ is the translation management system of choice for hundreds of enterprises, large institutions, and language service providers, and is the favorite CAT tool of translators around the world.
What is memoQ capable of?
At its core, memoQ is a rich and growing set of productivity tools to manage translation projects. It has features such as a repository for translation resources; control centers for collaborative, simultaneous translation operations; functionalities to run multilingual projects; reporting functions; and unique workflow automation. What is more, memoQ can handle files and packages coming from other translation tools, too.In other words, it will give you superpowers!
Will it be easy to switch to memoQ?
Transparency is key when working with a translation management software—memoQ is designed and documented so that even if you are new to memoQ, you can begin using it on your own. Because memoQ works with proprietary formats from other CAT tools, you won't need those software licenses in order to process files from your current tool. Our eBooks, white papers, and webinars support your transition. Hundreds of LSPs and translation buyers also use memoQ so you will never be out of premium assignments! (See what we offer for LSPs and enterprises switching from another TMS to memoQ!)
What are the killer features?
There are many. For translators, memoQ is intuitive and easy to learn, and features like segment filtering, predictive typing, and easy-to-use terminology management make it extremely productive. For PMs, project templates significantly shorten the project preparation time and help automate processes. memoQ is famous for its direct online collaboration and communication features for translation teams. It has great APIs and SDKs for extensibility, customizability and automation, and 64-bit power for great performance. And by performance we mean: it's fast!
And the list goes on...
Best-in-class document filters with great customizability, covering even the trickiest multilingual or embedded file formats
LiveDocs: use finished translation documents directly as translation memory, or do alignment on the fly while translating
Real-time translation preview, including video preview for audiovisual content, and customizable previews with memoQ's preview SDK
A great MT framework to make the best use of the many available MT services
Server-to-server connections to improve cooperation and resource sharing between clients and vendors using memoQ servers
With Hey memoQ, turn your iPhone or iPad into memoQ's ear, and translate by dictating in more than 30 languages!
But don't take it from us – read the reviews of real memoQ users on G2Crowd!
Is memoQ compatible with other CAT tools?

Yes. memoQ is compatible with not just SDL Trados but with most other translation tools. You can import, translate and export the proprietary files of other translation tools with memoQ.

What languages and file formats does memoQ support?
memoQ supports over 100 languages and most document formats you can think of, including the most common, like Microsoft Word, XLIFF, XML, SDLXLIFF or INDD. Read about memoQ's compatibility here.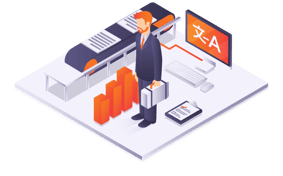 Does memoQ integrate with other technologies like Machine Translation?
Yes. We have integrations with over a dozen machine translation engines (e.g. DeepL, Systran, Mirai, Google, Microsoft), and external translation memory databases including TaaS, EuroTermBank, TAUS, and others.
How secure is memoQ?
Security and data protection are key priorities for us. We work with Fortune 500 enterprises, Nimdzi100 LSPs, and leading game software companies—a demanding league of customers for whom security is a must. For us, stability is also a key element of the overall user experience.
What does "take delight in your work" mean?
It means that it's awesome to work with memoQ. It's built like a sports car—fast and efficient, reliable and robust. Using memoQ enables complex tasks to be done in less time than with most alternative products. Our main aim is to augment your translation work so you can focus on creativity.
Who is behind memoQ?
Good news—there is nobody "behind" memoQ. We're a fully independent organization, a pure tech company with no staked interest in services. Translators and language service providers are our partners, not our competitors. You never have to worry about conflict of interest. memoQ is a transparent organization, often described by customers and partners as a friendly, accessible, and supportive community.

Are you ready to switch and use memoQ?