Why Should I Switch to memoQ?

You can take delight in your work with memoQ! Increase productivity and reduce costs by centralizing linguistic assets, automating processes, and monitoring workflows in memoQ.
memoQ was created 15 years ago by translators who decided to create the tool they wished they—and the companies they worked for—had. Since then our software has grown to become one of the world's leading translation environments. We continuously add and update features tailored to meet the needs of various segments of the translation industry.
Today, memoQ is the translation management system of choice for hundreds of enterprises, large institutions, and language service providers.
What is memoQ capable of?
At its core, memoQ is a rich and growing set of productivity tools to manage translation projects. It has features such as a repository for translation resources; control centers for collaborative, simultaneous translation operations; functionalities to run multilingual projects; reporting functions; and unique workflow automation.
memoQ can help you manage the localization of documents, software, audiovisual content, web content, mobile content, PDF files, DITA and XML files, social media and e-learning materials, databases, surveys, and desktop publishing. memoQ can handle files and packages coming from other translation tools, too.
Large enterprise proof-of-concept evaluations have recently demonstrated that memoQ offers better flexibility, more intuitive user interface, better integration with third-party systems through Content Connectors, more powerful automation through templates, and faster project preparation when compared to SDL.
Will it be easy to switch to memoQ?
It is easier than you might think. Transparency is key when working with a translation management software—memoQ is designed and documented so that even if you are new to memoQ, you can begin using it on your own, if you are so inclined, without help from IT consultants. Thousands of translators and hundreds of LSPs and translation buyers have already made the switch and are reaping the benefits. Because memoQ works with proprietary formats from other CAT tools, you won't need those software licenses in order to process files from your current TMS.
Our eBooks, white papers, and webinars support your transition. For a higher level of assistance, we also have a Business Services team that can help with professional services like data migration, workflow optimization, integrations, automation, training, and more.
What are the killer features?
There are many. For translators, memoQ is intuitive and easy to learn, and features like segment filtering, predictive typing, and easy-to-use terminology management make it extremely productive. For PMs, project templates significantly shorten the project preparation time and help automate processes. memoQ is famous for its direct online collaboration and communication features for translation teams. It has great APIs and SDKs for extensibility, customizability and automation, and 64-bit power for great performance. And the list goes on...
Best-in-class document filters with great customizability, covering even the trickiest multilingual or embedded file formats
LiveDocs: use finished translation documents directly as translation memory, or do alignment on the fly while translating
Real-time translation preview, including video preview for audiovisual content, and customizable previews with memoQ's preview SDK
A great MT framework to make the best use of the many available MT services
Server-to-server connections to improve cooperation and resource sharing between clients and vendors using memoQ servers
But don't take it from us – read the reviews of real memoQ users on G2Crowd! Or view STP's Knowledge Base on how they are leveraging memoQ technology.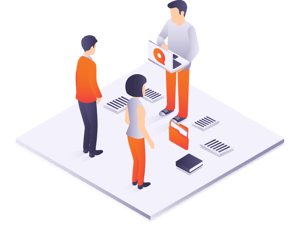 How do you support me when switching to memoQ from another translation management system?
We offer not just software but also a comprehensive package for new clients switching to memoQ. The switch package can include business requirements analysis; workflow assessments; user and resource migration; file import configurations; template configurations; migration of active configurations; and training. We can help you shorten the time needed to switch and quicken your time to realizing ROI.
On top of everything else, we offer premium level of Business Services that can include having a Solution Engineer or Success Manager assigned to you—a single person will oversee your support issues and you'll be able to talk to that person regularly. Check our Business Services solutions!
Is memoQ compatible with other translation management systems?

Yes. memoQ is compatible with not just SDL but with most other translation tools. You can import, translate and export the proprietary files of other translation tools with memoQ.

What languages and file formats does memoQ support?
memoQ supports over 100 languages and most document formats you can think of, including the most common, like Microsoft Word, XLIFF, XML, SDLXLIFF or INDD. See memoQ's compatibility information.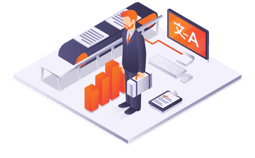 Does memoQ integrate with other technologies like Machine Translation, Content Management, and Business Management Systems?
Yes. You can connect to other systems easily using memoQ's superior and extensive APIs. We have mature integrations with business management tools like Plunet and XTRF, over a dozen machine translation engines (e.g. DeepL, Systran, Mirai, Google, Microsoft), Content Management Systems (e.g., WordPress), and external translation memory databases.
Our industry-leading Business Services team can work with you to achieve seamless integrations and custom automation of unusual workflows, even in the most exacting circumstances. We also work with middleware solution providers such as iLangl and Xillio.
How secure is memoQ?
The security of your data is our priority. We recognize the growing relevance and importance of data protection and IT security, and we are deeply committed to the continuous development of memoQ in these realms. We work with Fortune 500 enterprises, Nimdzi 100 LSPs, and leading game software companies—a demanding league of customers for whom security is a must. Read our guide on enhanced password security and our documentation on memoQ server security and data protection.
What does "take delight in your work" mean?
It means that it's awesome to work with memoQ. It's built like a sports car—fast and efficient, reliable and robust. Using memoQ enables complex tasks to be done in less time than with most alternative products. Our main aim is to facilitate your translation and localization processes so you can focus on creativity.

What are my options for deployment and licensing?
You have three deployment and two licensing options with the memoQ server, giving you the ultimate freedom of choice. Deployment of memoQ can be on-premise, cloud or hosted; licensing can be subscription (SaaS) or perpetual. The subscription model is currently the choice of more than half of our new customers. Deployment and licensing are unbundled—cloud and subscription are not tied to each other. You can have the benefits of a subscription with the security and robustness of an on-premise deployment. Download our offering guide
Who is behind memoQ?
Good news—there is nobody "behind" memoQ. We're a fully independent organization, a pure tech company with no staked interest in services. Language service providers are our partners, not our competitors. You don't have to worry that we might have a conflict of interest. memoQ is a transparent organization, often described by customers and partners as a friendly, accessible, and supportive community.

Are you ready to switch and use memoQ? Got questions?
Book your discovery meeting with our expert to learn more about memoQ!