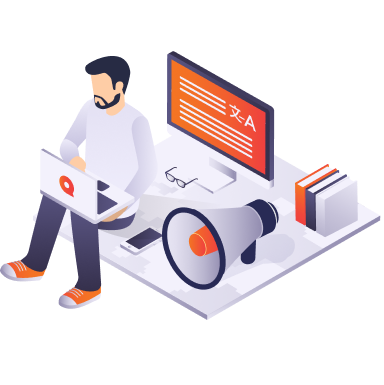 Get your Competitive Edge with

memoQ
When you're a translator, you cannot afford to waste time.
memoQ translator pro is not your average CAT tool
It was designed for translators by translators to help them go above and beyond in their day-to-day work.
Highly customizable

Compatible with other CAT tools and can handle a multitude of file types

memoQ has various integrations, such as MT engines, content management systems and QA tools

Quarterly updates with features requested by our users—we have an idea portal where you can submit your most wanted features
Shortcuts that will Skyrocket your Productivity
If you want to get ahead of the competition, you'll have to work smarter, not harder.
That is why you cannot afford to waste time. Every second counts—and when you work on large bodies of text as a translator, those small seconds can add up to minutes or even hours.
memoQ was developed by translators, which means that we added keyboard shortcuts to all important actions so that you can save time.
Your translation process becomes smoother and faster, without having to sacrifice quality.

Go to next segment
If you want to go back to a segment you haven't confirmed yet, or find the next segment with a specific match rate, you can do so with one key combination. You can find nine different settings that you can use with Ctrl + G. When you have thousands of rows, this is a lifesaver.

Move selected text left/right by one word
By pressing Ctrl + Shift + B/N, you can move a selected word/phrase left or right by one word. No need to cut and paste when you're translating!

Customize shortcuts
If there is an action specific to a certain project, you can also create your own shortcuts in memoQ.
Speed up your Translations Even More
Choose from Countless Integrated Machine Translation Tools
















Your client asked you to submit your work in a specific file format?
Or they work with a project management system and want their translations to arrive there directly?
memoQ is up for the challenge. The tool can import and export a myriad of file formats, even if it is from a different CAT tool. If your client uses a different software, you can still work with memoQ and receive/send your translations in the desired file format.
With our integrations, your client can send you work directly from other tools, such as WordPress, Jira, or monday.com (among others).
Join a Community of Like-minded Professionals
Translation can be tricky, especially when you're just getting the hang of a new tool.
But you'll never be left behind when using memoQ. Our support team is there for you 24/5 to help you with any questions and problems you might come across.
Besides, memoQ also has a wonderful community of translators around the world, who are happy to help you, whatever level you are on.
And the cherry on top: as a memoQ user, you'll be invited to memoQfest every year: An on-site festival in Budapest where you can meet professionals from the industry from all around the world—to talk business or to cut a rug!
"memoQ was very intuitive for me from the beginning. Getting started with the basics only took me a few minutes." Andrii Vovchenko
"That memoQ translator pro is the best CAT tool on the market is beyond discussion. On top of that, we love the personal support by the memoQ people." Wouter Van den Berg
Get Your 30-day Free Trial Now